A Fall Saturday in Council Bluffs
Coming into Council Bluffs this season with only a short time to visit? Here's what we recommend filling a fall Saturday in CB with!

9 a.m. – Breakfast at Goldmine Bar & Grill
You may not initially think to stop by a bar and grill for breakfast, but the Goldmine is a local breakfast favorite — in fact, it's usually packed. The Goldmine serves up all of your classic breakfast favorites so you can head on to the next part of your day full and ready to go.
10 a.m. – Union Pacific Railroad Museum & Historic Squirrel Cage Jail
Less than a five-minute drive from the Goldmine Bar & Grill, head over to neighboring museums the Union Pacific Railroad Museum and the Historic Squirrel Cage Jail. Explore railroad history with interactive exhibits and games at the UP Museum for an hour or two. With three stories of exhibits to explore, there's certainly a lot to do. Once you've completed your railroad adventure, head over to the Historic Squirrel Cage Jail (opens at 11 a.m.) for a darker history lesson. The historic jail, built in 1885, is a one-of-a-kind three-story revolving jail. Learn about its unique architecture and history with a tour — and, if you believe in such things, be sure to ask a guide about the jail's possible haunting.

12:30 p.m. – Pumpkin Patch & Lunch
Your next stop is a choice between two pumpkin patches in town: Ditmars Orchard and Pioneer Trail Orchard & Pumpkin Patch. On a fine fall day, there's no better place to visit, and you'll have fun and enjoy a great lunch at either stop! Both are about 15 minutes from the UP Museum and Historic Squirrel Cage Museum.
3 p.m. – Bob Kerrey Pedestrian Bridge & Tom Hanafan River's Edge Park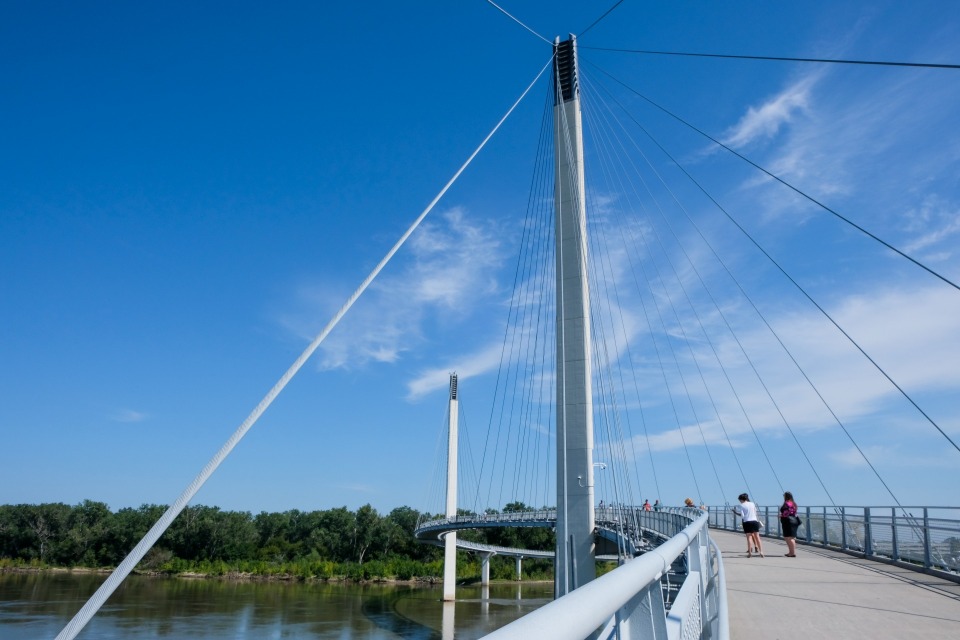 After a morning and afternoon filled with activities, head over to Tom Hanafan River's Edge Park for some time to relax. Though affected from some spring flooding, you can still enjoy views of the park and the Omaha skyline from the rooftop deck of the River's Edge Pavilion. After some rest, head over to the entrance of the Bob Kerrey Pedestrian Bridge and take a jaunt over the Missouri River to Omaha and back. Be sure to stop for a photo op in the middle of the bridge on the Nebraska/Iowa border. We call that bobbing.

5 p.m. – Drinks at Full Fledged Brewing Co.
Council Bluffs' first brewery opened this past summer. Come on down for pre-dinner drinks and get to know some of the locals or keep to yourself and bust out one of their board games.
6:30 p.m. – Dinner in the 100 Block
Home to some of Council Bluffs' best nightlife is the Historic 100 Block. You have your choice of restaurants for dinner with great picks like Barley's, Lincoln's Pub, Caddy's Kitchen & Cocktails, Glory Days, and more. Once full, take a stroll along the block and bask in the day's memories.

Looking for something specific to do or for more attractions and dining options? Visit our Eat and Play pages for full lists of restaurants and attractions.
This post was originally published on
October 16, 2019
on the Unleash Council Bluffs
blog
.