6 Brunch & Breakfast Spots in Council Bluffs
As Leslie Knope would ask, "Why would anybody ever eat anything besides breakfast food?" Council Bluffs couldn't agree more, providing some truly scrumptious breakfast and brunch options throughout town. Whether you're looking for a quirky brunch cocktail or a country breakfast with all the fixings, Council Bluffs has it all.

712 Eat & Drink
712 Eat + Drink strives to serve meals made from scratch and locally grown produce and protein sources. Their seasonal brunch menu consists of about 10 options from a traditional breakfast to breakfast pizza to a menu item called the Hangover Burger. 712 Eat & Drink also serves up brunch cocktails, including bottomless mimosas. Brunch is served on Sundays from 9 a.m. to 2 p.m.

Caddy's Kitchen & Cocktails
Caddy's Kitchen & Cocktails is one of the newest restaurants to open in Council Bluffs, along with Lincoln's Pub. Similar to 712 Eat & Drink, they serve American cuisine made from scratch along with cocktails and craft beers. Their brunch menu consists of 12 options with everything from a classic breakfast to chicken wings to French toast. During brunch hours, Caddy's also serves a Meal in a Mug Bloody Mary (pictures to the right). The Bloody Mary is stuffed with all sorts of skewered appetizer items like a slider, chicken wings, and more.
Photo to the right courtesy of Caddy's Kitchen & Cocktails.

Primo's
Though not yet specified on their website, Primo's serves breakfast every day of the week with everything from American style plates to Mexican meals and breakfast burritos. Their menu includes 17 breakfast options like The Over Medium Burrito and Minardi's Style Biscuits & Gravy. Their breakfast menu also includes a kid's menu with smaller plates of French toast, pancakes, and more.

Legends Café
Formerly Duncan's Café, the restaurant is now Legends Café after a change in ownership, though, the menu remains largely the same. Their breakfast menu is large with choices of pancakes, omelets, and classic entrees. As of January this year, Legends Café now serves breakfast all day during their hours of operation from 7 a.m. to 2 p.m. on weekdays, except for Tuesday when they are closed, and 7 a.m. to noon on Saturday and Sunday.


Lincoln's Pub
Lincoln's Pub is a gastropub located on Council Bluffs' 100 Block, just a few doors down from Caddy's Kitchen & Cocktails. Their brunch menu consists of the traditional like pancakes, steak and eggs, and French toast along with the unique like Breakfast in a Cup, Chilaquiles, and Nashville Hot Chicken and Waffles (pictured to the right). There are 13 total brunch options to pick from. Lincoln's Pub serves brunch on Sundays between 9 a.m. and 2 p.m.
Photo to the right courtesy of Lincoln's Pub.

JB's Café
Located in the Horseshoe Casino, JB's Café is your answer to early morning dining. The café is open 24/7, serving breakfast from 5 to 11 a.m. JB's serves up 11 breakfast options with items from steak and eggs, omelets, pancakes, and more. After your meal, you can explore the casino or the nearby Bass Pro Shop.
Happy brunching!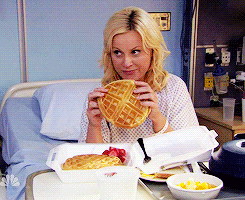 Top header photo courtesy of 712 Eat + Drink.

The original version of this blog post included Mad Ox Bakery before its storefront closure.
This post was originally published on
April 30, 2019
on the Unleash Council Bluffs
blog
.