Through New Eyes: Stand-Up Paddleboarding at Lake Manawa
It's like leisurely surfing—without the sharks.
One of the things I do miss about California is access to the ocean. I'm not a very athletic person but before moving to the Midwest, my husband Nicholas and I had been learning how to surf.

While I had barely learned to stand up on the board before we moved, spending time on the water is something I miss. Luckily, Council Bluffs is home to Lake Manawa and there are plenty of watersports to try there like jet-skiing, kayaking, sailing, swimming, and more. Plus, you don't have to worry about sharks there!

Nicholas and I decided to try stand-up paddleboarding (SUP). The reasoning being that it's close to surfing, right? Some might argue for someone as uncoordinated as myself, paddleboarding is probably the better sport to take up between the two anyways.
We took our boards out to Lake Manawa for the first time on Friday evening. Since we both have only been stand-up paddleboarding once or twice, instead of trying it out on the main lake we took the boards to an inlet that's separated from the rest of the lake by South Shore Drive. The inlet's location made it accessible to the main lake by tunnel but had noticeably calmer water due to less boating traffic besides some families going in and out of the tunnel on jet skis and small motorboats.
Though balancing and standing on our boards was more difficult than we remembered, once we got the hang of it, paddling around the inlet was relaxing and rejuvenating. It was a wonderful way to enjoy the water and the sunshine while getting a full body work out—it's possible your legs are just as sore as your arms are the following day from all the balancing.
As we feel more comfortable, Nicholas and I will be able to venture out onto the main part of the lake and spend more time out on the water—maybe we'll even grow our balancing skills enough to try out SUP yoga. For now, the inlet is the perfect spot to learn and get acquainted with the boards. Then we just have to cure our dog's fear of water so she can join us!
Omaha Paddlers
If you're looking for a group of people to stand-up paddleboard, kayak, canoe, or even rowboat with, there's a local Meetup group that goes paddling at Lake Manawa on Monday evenings when the weather is good. Local Scott Redd hosts the weekly paddle that usually begins at the Lake Manawa Sailing Association (LMSA).

"The Omaha Paddlers group is open to all adults, regardless of ability, who want to paddle with others," Redd shared. "While we all look out for each other, members must understand that they are ultimately responsible for their own experience and for their safety."

Redd enjoys hosting the paddles at Lake Manawa due to the relationship with the Lake Manawa Sailing Association, the number of spots on the lake that work well for launching kayaks—the majority of the group uses kayaks—and paddleboards like Boy Scout Island, three public docks/boat ramps, and the spot Nicholas and I paddled at on the west side of South Shore Drive.
"Lake Manawa is also great for wildlife observation," Redd said. "Depending on the time of year, Lake Manawa paddlers can expect to see turtles, pelicans, bald eagles, gulls, and terns. And finally, the sunsets on the lake are always beautiful."
You can request to join the group and see their rules on Meetup.com/omahapaddlers.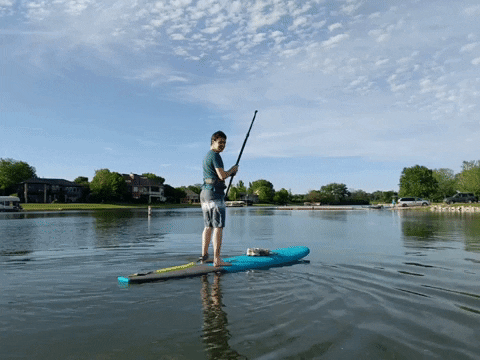 Beginning Paddleboarding Tips:
Redd has been stand-up paddleboarding for about two years. He shared some advice for beginners:
Try a paddleboard before buying it (if you join Omaha Paddlers, some members may allow you to try out their boards)
Beginners should go out on days with calm winds and stay close to shore
You must wear a PFD (personal floatation device) as required by the State of Iowa
And some additional tips from myself after only a couple of successful paddles under my belt:
Wear sunscreen
Purchase a waterproof floating phone case (you know you'll want to take photos, this way you don't risk ruining your phone in the process!)
Wear a swimsuit, wetsuit, or clothes you won't mind getting wet—just in case you lose your balance!
This post was originally published on
May 29, 2019
on the Unleash Council Bluffs
blog
.